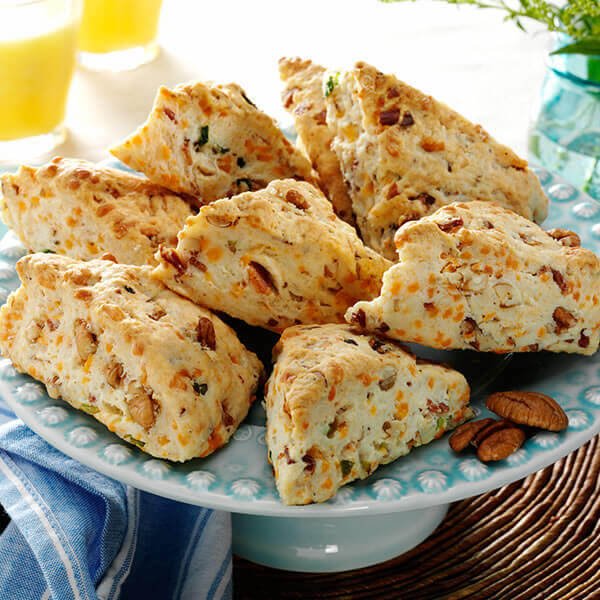 ← All Recipes
Bacon & Cheddar Scones
Prep Time 15 Minutes
Cook Time 22 Minutes
Total Time 37 Minutes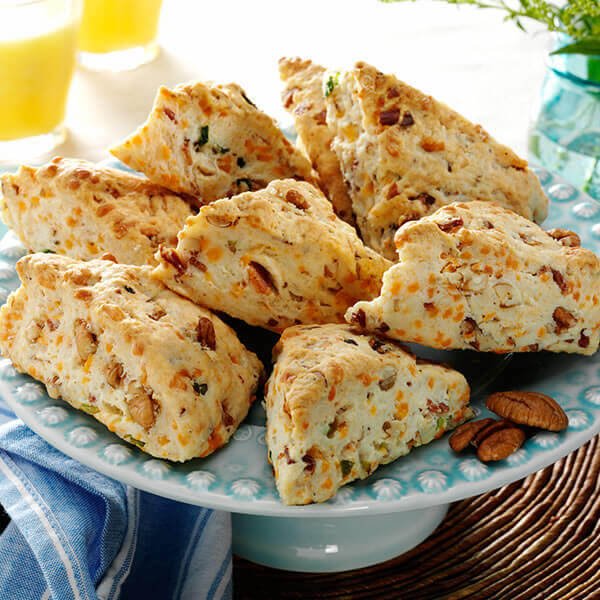 Serves 32
Serving Size 1 scone
Meal Type Breakfast
Description
Pecans add crunch and a subtle sweetness to these savory scones - the perfect addition to your breakfast or brunch menu!
Preparation
Preheat the oven to 400°F. Line a sheet pan with parchment paper.
Mix flour, baking powder, and salt in a large bowl. Cut butter into flour mixture with your hands or a fork until the mixture resembles coarse cornmeal. Stir in cheese, pecans, bacon, green onions, and pepper until well mixed. Add cream and stir until dough is mostly formed, turn onto a counter and knead a few times to bring the dough together, being careful not to overwork. Add a small amount of cream if dough is too dry.
Flatten into 4 even circles, about 7 inches in diameter and 3/4 inch thick and cut each circle into 8 wedges with a sharp knife. Transfer to a parchment paper lined baking sheet, leaving a little space between each wedge. Bake until golden brown, 22-23 minutes. Serve warm or at room temperature.
Always practice safe food handling procedures
Wash hands with soap and water before handling any food and after handling raw meat, poultry, seafood or eggs.
Gently rub produce under cold running water. Scrub firm produce with a clean vegetable brush under running water.
Wash all surfaces that come in contact with raw meat, poultry, seafood and eggs to avoid cross contamination.