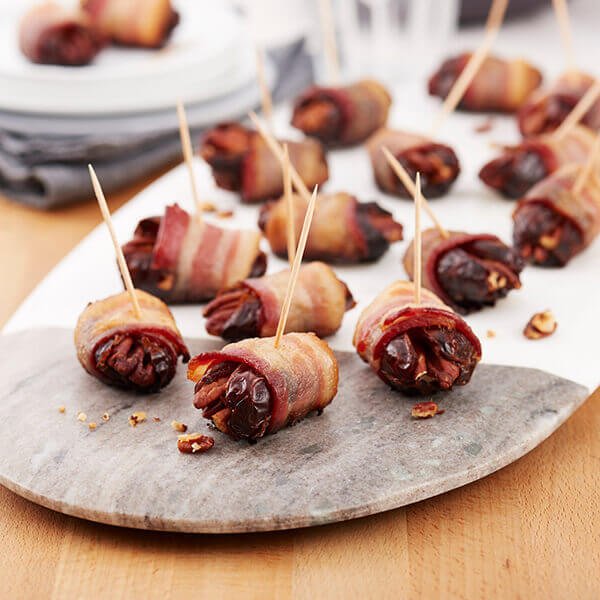 Bacon wrapped Dates with Pecans
← All Recipes
Bacon wrapped Dates with Pecans
Prep Time 15 Minutes
Cook Time 25 Minutes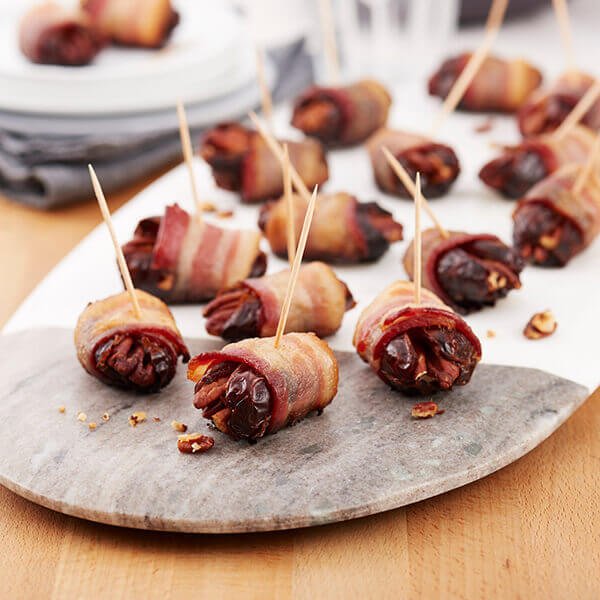 Serves 16
Serving Size 3 dates
Meal Type Appetizers
Description
Pecans add a sweet crunch to this savory classic.
Dates
Preparation
Preheat oven to 375°F. Line a sheet pan with parchment paper.
Season the dates generously with black pepper. Pull on or cut the dates lengthwise so that they open, remove pit, and insert 1 pecan into each date. Wrap tightly in a strip of bacon. Put the dates on the prepared pan, seam side down.
Bake for 20 minutes. Turn the dates over and continue baking 5 minutes or until the bacon has browned on the top and bottom.
Always practice safe food handling procedures
Wash hands with soap and water before handling any food and after handling raw meat, poultry, seafood or eggs.
Gently rub produce under cold running water. Scrub firm produce with a clean vegetable brush under running water.
Wash all surfaces that come in contact with raw meat, poultry, seafood and eggs to avoid cross contamination.
Sauce
Preparation
Bring honey and vinegar to a boil over medium heat in a small skillet. Reduce heat to low and simmer for an additional 5 minutes, until mixture thickens. Keep warm. Drizzle over dates before serving.