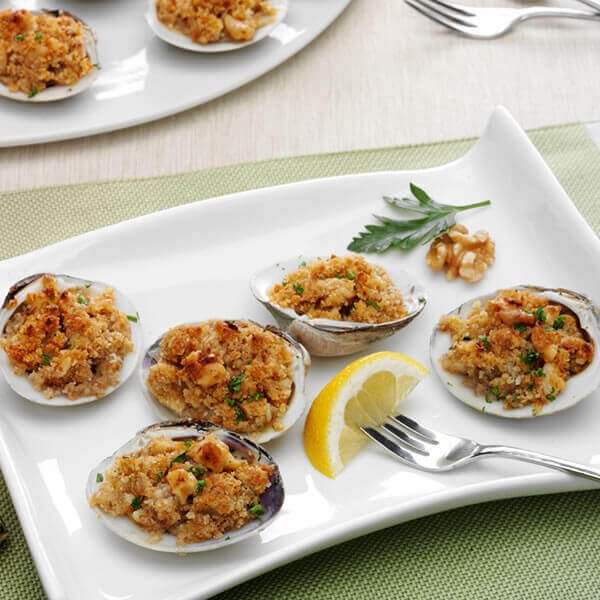 ← All Recipes
Baked Clams with Walnuts
Prep Time 15 Minutes
Cook Time 15 Minutes
Total Time 30 Minutes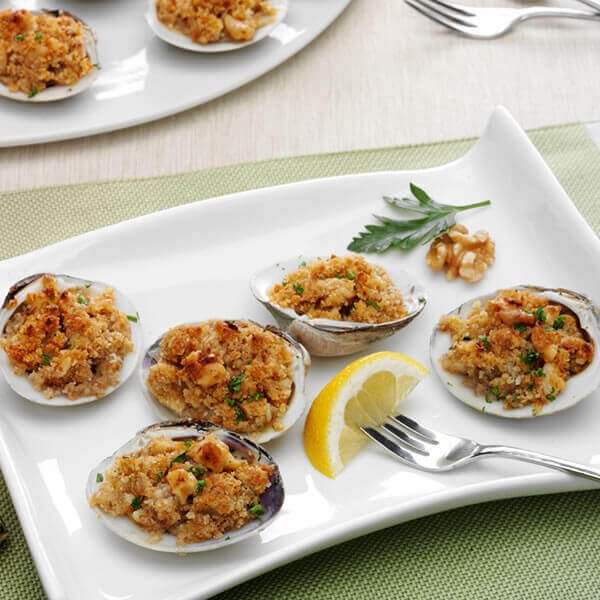 Serves 1 1/2 cups filling - enough for 36 large or 60 small clams
Meal Type Appetizers
Description
Walnuts add depth of flavor and plant-based protein to this twist on Clams Casino.
Preparation
Preheat the oven to 375°F.
Place butter in the bowl of a food processor fitted with the metal blade and add the scallions, garlic, 3 teaspoons lemon juice, and lemon zest. Pulse to blend. Transfer the mixture to a bowl; add the walnuts and season with salt and pepper. Add the breadcrumbs and stir to blend; set aside.
Heat 1/2-inch water in a large skillet or rondeau until boiling. Place clams into the pan and cover with a lid. Let clams steam for 3 minutes or until the clams begin to open. Remove clams from pan and let sit until they are cool enough to handle. Pry the clam shells open using a butter knife, remove and discard the upper shell. Use a small knife to detach the clam body from the shell. Loosely mold about 1 teaspoon for small clams and a scant 2 teaspoons for larger clams of the breadcrumb mixture into each of the shells so the clam body is somewhat covered. Arrange them in a single layer on a baking sheet. Bake for 10 minutes.
Preheat the broiler and broil them for 1 minute or until they are browned. Drizzle with the remaining 3 teaspoons lemon juice. Top each clam with parsley. Serve immediately.
Always practice safe food handling procedures
Wash hands with soap and water before handling any food and after handling raw meat, poultry, seafood or eggs.
Gently rub produce under cold running water. Scrub firm produce with a clean vegetable brush under running water.
Wash all surfaces that come in contact with raw meat, poultry, seafood and eggs to avoid cross contamination.