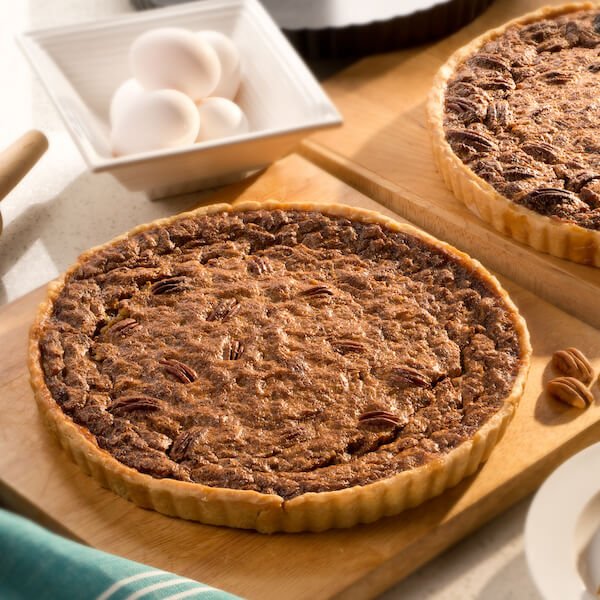 Bourbon and Pecan Butter Tarts
← All Recipes
Bourbon and Pecan Butter Tarts
Prep Time 90 Minutes
Cook Time 50 Minutes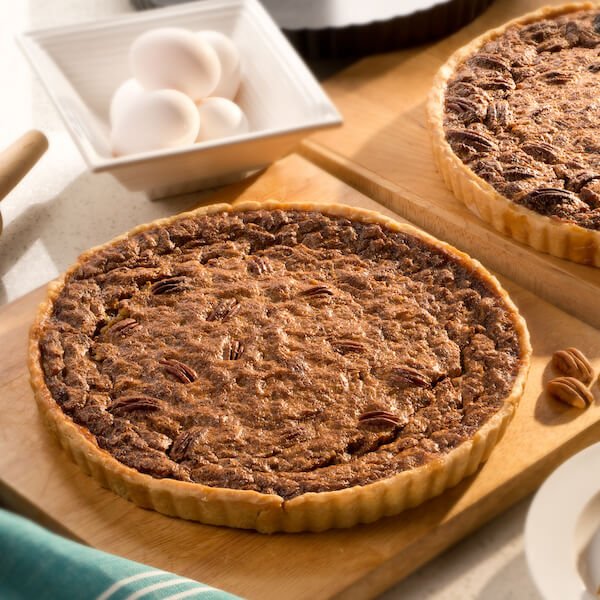 Serves Yields two 12 inch tarts
Serving Size 1 slice
Meal Type Dessert
Description
Bourbon and pecans transform this tradition treat into an indulgent dessert.
Pastry
Preparation
Place flour, butter, and salt in the bowl of a food processor, pulse until texture of coarse breadcrumbs. Add 1/2 cup water, pulse to blend. Drizzle in the remaining water, pulsing until the mixture just starts to hold together. Remove from the processor and knead a few times until a dough is formed. Divide the dough into 2 equal pieces, form into disks, cover in plastic wrap, and refrigerate for at least one hour.
On lightly floured work surface, roll out dough to a circle that is about 2-inches larger than a 1-inch deep, 11- or 12-inch wide tart pan with a removable bottom. Line the pan with the dough and crimp the edges. Repeat for remaining tart pan. Refrigerate the crust while preparing the filling.
Always practice safe food handling procedures
Wash hands with soap and water before handling any food and after handling raw meat, poultry, seafood or eggs.
Gently rub produce under cold running water. Scrub firm produce with a clean vegetable brush under running water.
Wash all surfaces that come in contact with raw meat, poultry, seafood and eggs to avoid cross contamination.
Filling
Preparation
Preheat oven to 375°F; set rack to lowest position.
Coarsely chop 2 cups of pecans. Combine with remaining 1 cup of pecan halves and set aside. In a medium bowl, whisk together brown sugar, corn syrup, eggs, melted butter, bourbon, and salt. Divide the chopped and halved nuts evenly into bottoms of 2 tart shells, fill each tart with half of the sugar mixture.
Bake for 40-45 minutes or until filling is set; it will look puffed and bubbly, and pastry is golden brown.
Let stand for 5 minutes. Remove outer rim of pan. Let cool completely.
Tips: Substitute whisky, brandy or other alcohol if desired. These tarts are just as delicious made with Fisher® chopped walnuts instead of pecans.