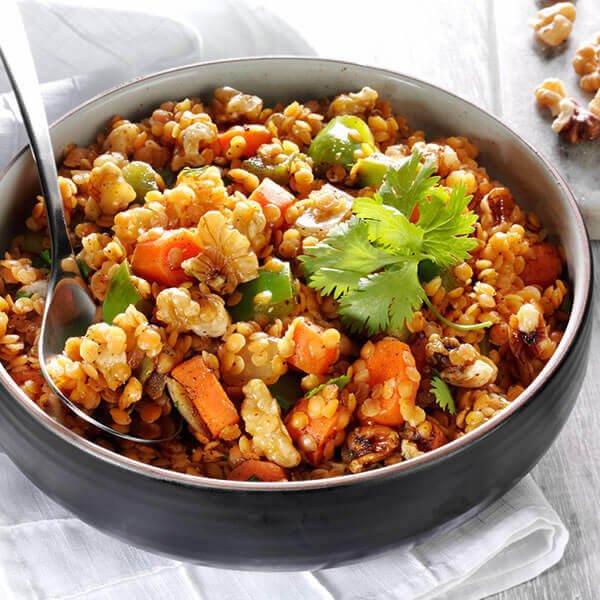 Curried Red Lentils with Walnuts
← All Recipes
Curried Red Lentils with Walnuts
Prep Time 10 Minutes
Cook Time 16 Minutes
Total Time 26 Minutes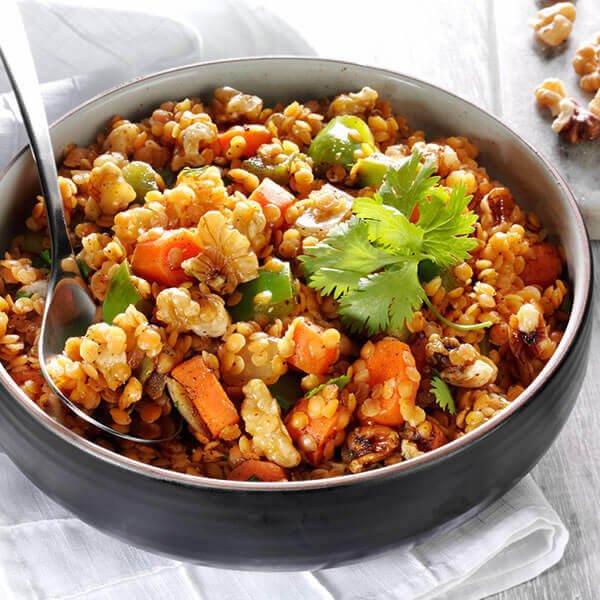 Serves Yields 12 cups
Serving Size 1/2 cup
Description
Walnuts add crunch and plant-based protein to this hardy dish.
Preparation
Bring water, lentils, ginger, and salt to a boil in a medium saucepan. Reduce heat to medium; simmer uncovered until lentils are tender, about 10 minutes - be sure not to overcook the lentils, you'll want them to have some texture.
Meanwhile, heat oil in skillet over medium heat. Add onions and sauté until they soften and brown, about 5 minutes. Mix in chili powder, curry powder, and walnuts; stir 1 minute then remove from heat and set aside.
Stir onion mixture, walnuts, and cilantro into lentils. Transfer to bowl. Sprinkle with additional cilantro before serving, if desired.
Always practice safe food handling procedures
Wash hands with soap and water before handling any food and after handling raw meat, poultry, seafood or eggs.
Gently rub produce under cold running water. Scrub firm produce with a clean vegetable brush under running water.
Wash all surfaces that come in contact with raw meat, poultry, seafood and eggs to avoid cross contamination.