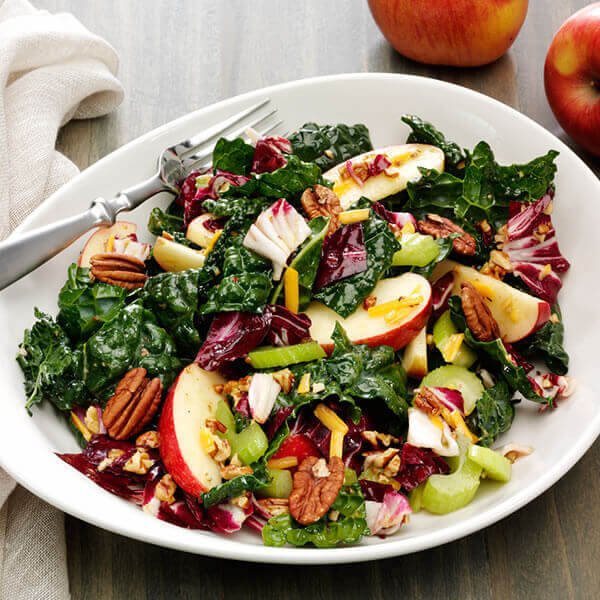 Kale, Apple & Pecan Salad
← All Recipes
Kale, Apple & Pecan Salad
Prep Time 15 Minutes
Total Time 20 Minutes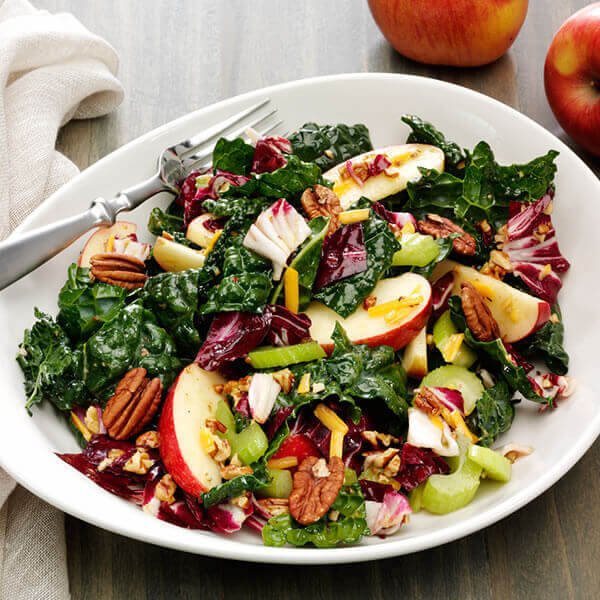 Serves Yields 20 cups (10 servings)
Serving Size 2 cups
Meal Type Salad
Description
Hearty salad for any season. Add grilled or pecan-crusted chicken to make it an entree.
Preparation
Preheat oven to 375°F. Spread pecans in one layer on a sheet pan. Bake for 5-8 minutes, stirring occasionally, until they are toasted and aromatic. Reserve 1/2 cup of pecan halves. Coarsely chop the remaining pecans; set aside.
Whisk the vinegar, honey, salt, and pepper together in a large bowl. Slowly pour in olive oil, whisking until thoroughly blended.
Add the kale, radicchio, and celery to the dressing, tossing to thoroughly coat the greens. Stir in the apple slices, cheese, and remaining nuts. Top with reserved pecan halves.
Always practice safe food handling procedures
Wash hands with soap and water before handling any food and after handling raw meat, poultry, seafood or eggs.
Gently rub produce under cold running water. Scrub firm produce with a clean vegetable brush under running water.
Wash all surfaces that come in contact with raw meat, poultry, seafood and eggs to avoid cross contamination.