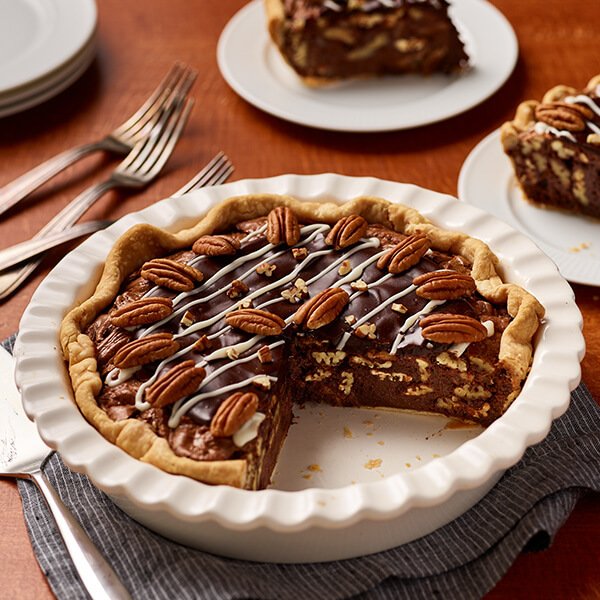 ← All Recipes
Pecan Brownie Pie
Prep Time 10 Minutes
Cook Time 45 Minutes
Total Time 55 Minutes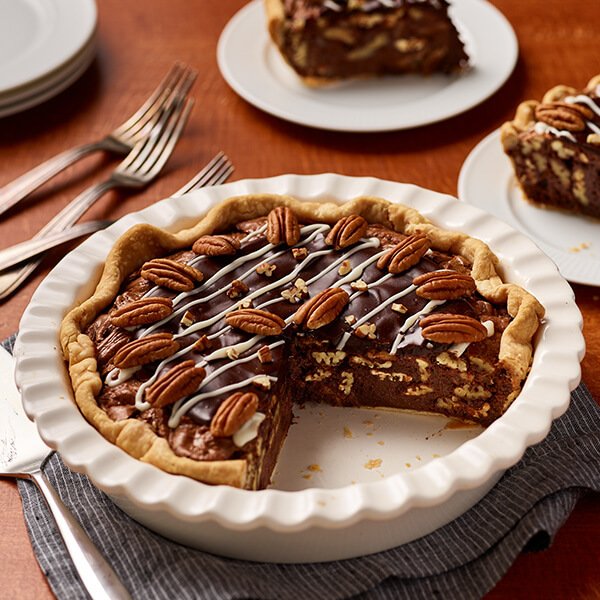 Serves Yields three 9 inch pies
Serving Size 1 slice
Meal Type Dessert
Description
The perfect combination of brownies, pie, chocolate and pecans is a dessert everyone loves!
Pie Crust
Preparation
Preheat oven to 350°F.
Place flour, butter, shortening, sugar, and salt in the bowl of a food processor, pulse until the texture of coarse breadcrumbs. Add water, pulsing until the mixture just starts to hold together. Remove from the processor and knead a few times until a dough is formed. Divide into 3 equal pieces, form into disks, cover in plastic wrap and refrigerate for at least one hour. On a lightly floured work surface, roll out dough to a circle that is about 2 inches larger than a 9-inch pie pan. Line the pan with the dough and crimp the edges. Repeat for remaining pie pans.
Always practice safe food handling procedures
Wash hands with soap and water before handling any food and after handling raw meat, poultry, seafood or eggs.
Gently rub produce under cold running water. Scrub firm produce with a clean vegetable brush under running water.
Wash all surfaces that come in contact with raw meat, poultry, seafood and eggs to avoid cross contamination.
Filling
Preparation
In a medium saucepan, simmer the condensed milk and sugar over medium heat, whisking steadily, about 5 minutes or until the sugar dissolves. Off heat, whisk in 4 1/2 cups of chocolate chips, stirring occasionally until the chocolate melts. In a medium bowl, whisk together eggs, vanilla, cinnamon, and salt. Gently whisk chocolate mixture into egg mix, about 1/2 cup at a time until well blended. Stir in 7 1/2 cups of pecans.
Divide the filling evenly into the 3 pie shells. Bake on center rack of oven for 35-40 minutes, or until fairly firm in the center. Let cool.
After pie has cooled, melt the remaining 1 1/2 cups of chocolate chips and milk together. Pour one-third of sauce over each pie. Let cool.
Melt white chocolate and milk together. Drizzle one-third of white chocolate sauce over each pie. Sprinkle each pie with 1/2 cup of pecans.
Notes: For more crunch, toast the pecans at 350°F for 5-10 minutes. Replace the vanilla with bourbon or cognac to make an adult version of this recipe.