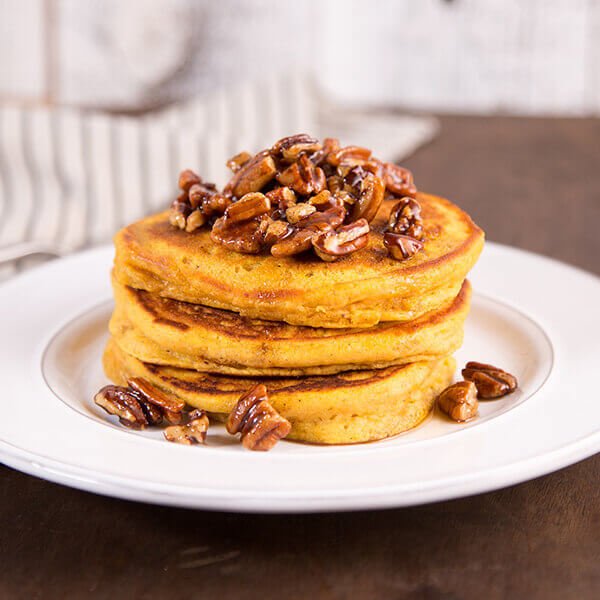 ← All Recipes
Pumpkin Pecan Pancakes
Prep Time 10 Minutes
Cook Time 10 Minutes
Total Time 20 Minutes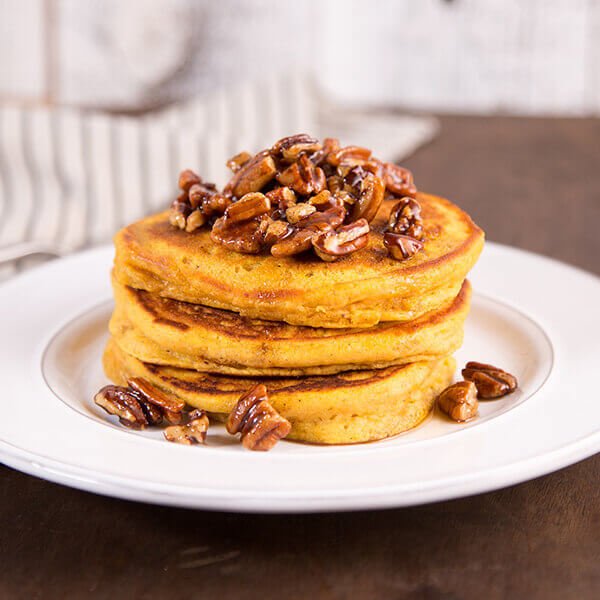 Serves 24
Serving Size Two 2oz pancakes
Meal Type Breakfast
Description
The combination of pumpkin, cinnamon and maple glazed pecans makes this a great seasonal addition to your breakfast menu.
Maple Pecans
Preparation
In a medium saucepan heat maple syrup, butter, salt, and cinnamon over medium heat until bubbly.
Add pecans, turn heat to medium-low and cook 3-4 minutes, stirring frequently.
Serve warm or cold over pancakes.
Always practice safe food handling procedures
Wash hands with soap and water before handling any food and after handling raw meat, poultry, seafood or eggs.
Gently rub produce under cold running water. Scrub firm produce with a clean vegetable brush under running water.
Wash all surfaces that come in contact with raw meat, poultry, seafood and eggs to avoid cross contamination.
Pancakes
Preparation
In a large bowl, whisk together flour, baking powder, salt, and spices. Form an indentation in the center.
In a separate bowl beat eggs into the pumpkin. Whisk in the maple syrup, milk, and vanilla and mix well. Pour the wet ingredients into the dry and gently fold the mixture together being careful not to overmix. Fold in the melted butter.
Heat griddle over medium heat to 400°F and grease with butter or a butter substitute, if needed.
Pour batter onto griddle, using a 2 oz. scoop for each pancake. Cook 3-4 minutes or until the batter begins to brown at the edges and set on top. Flip pancakes and cook 3-4 additional minutes.
Serve warm, topped with maple pecans.