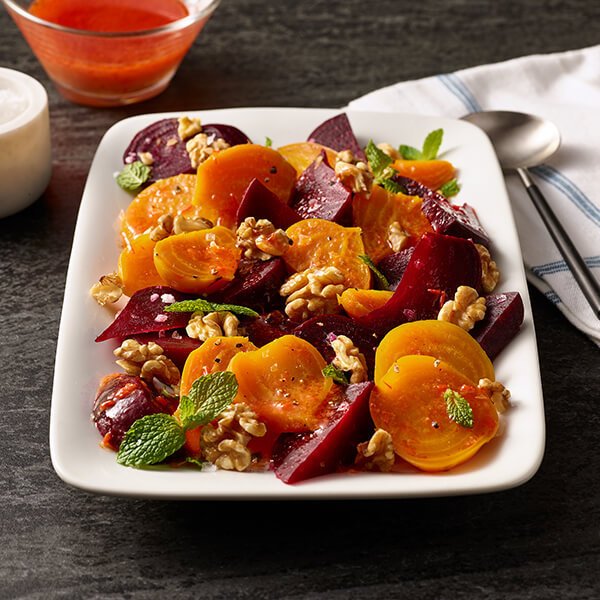 Roasted Beet and Walnut Salad
← All Recipes
Roasted Beet and Walnut Salad
Prep Time 10 Minutes
Cook Time 45 Minutes
Total Time 55 Minutes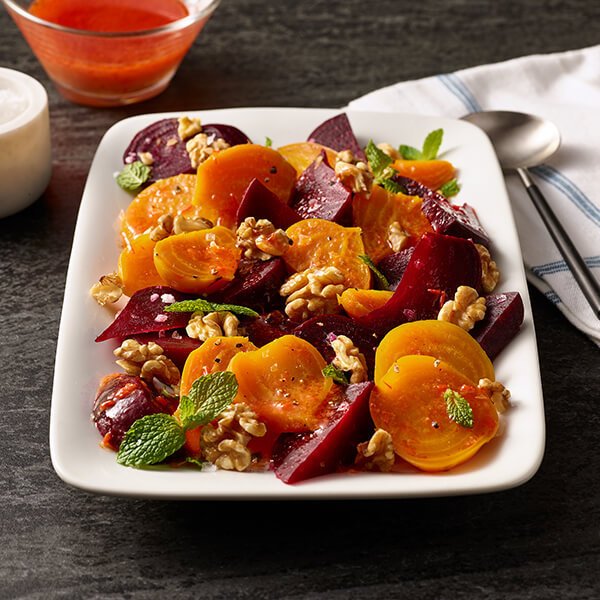 Serves Yields 12 cups
Serving Size 2 cups
Meal Type Salad
Description
The harissa counters the sweetness of the beets while the walnuts add that necessary crunch and creaminess to this vibrant dish.
Beets
Preparation
Preheat oven to 350°F.
Wash the beets and remove the stem and root ends. Wrap each beet in aluminum foil so that the opening is at the top of the beets and place on a half sheet pan. Roast for 45 minutes or until a knife inserted into the center enters easily. Remove skins and cut each beet into 8 wedges when cool enough to handle.
Whisk the harissa, cider vinegar, Dijon mustard, salt, and 2 tablespoons cold water together in a medium bowl. Slowly pour in olive oil, whisking until thoroughly blended.
Arrange beets on a plate or platter, top with walnuts and mint leaves, and drizzle with dressing. Serve at room temperature or cold.
Always practice safe food handling procedures
Wash hands with soap and water before handling any food and after handling raw meat, poultry, seafood or eggs.
Gently rub produce under cold running water. Scrub firm produce with a clean vegetable brush under running water.
Wash all surfaces that come in contact with raw meat, poultry, seafood and eggs to avoid cross contamination.