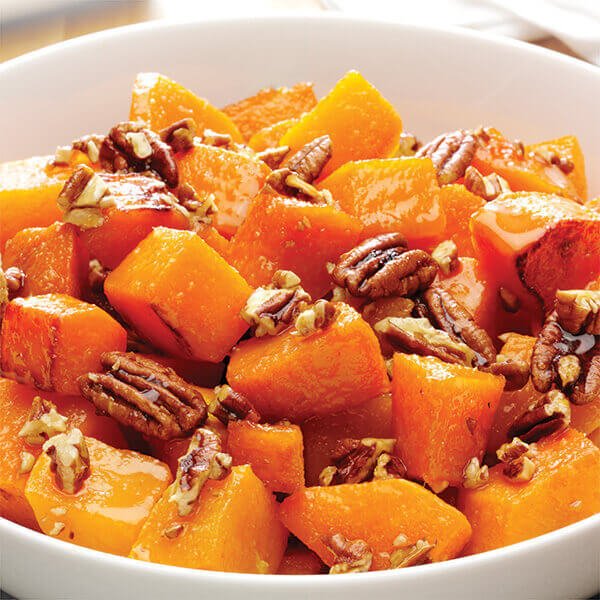 Roasted Butternut Squash with Pecan Ginger Glaze
← All Recipes
Roasted Butternut Squash with Pecan Ginger Glaze
Prep Time 20 Minutes
Cook Time 35 Minutes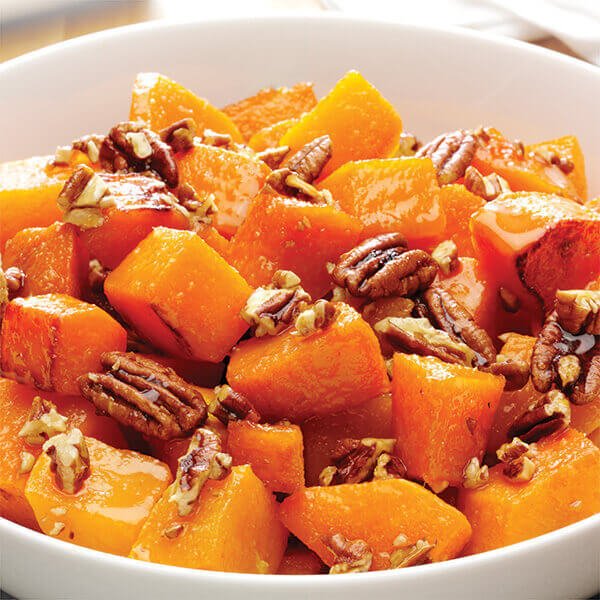 Serves Yields 8 cups
Serving Size 1/2 cup
Meal Type Sides
Description
Pecans provide sweet flavor and crunch while ginger adds a little zing to brighten up this side - perfect with roasted chicken, ham or fish.
Preparation
Preheat oven to 400°F. Spread pecans in one layer on a sheet pan. Bake for 5 minutes or until lightly toasted and aromatic. Remove nuts from sheet pan and set aside.
Combine sugar, 4 tsp. salt, and ground ginger in large bowl. Add squash pieces and toss to coat evenly. Drizzle with olive oil and stir to combine. Divide the mixture evenly onto sheet pans, spreading the squash so that the pieces are not touching. Bake for 30 minutes (rotate the pans in the oven after 15 minutes) or until the squash has begun to brown and is tender when pierced with the tip of a knife.
Combine maple syrup, honey, orange juice, vinegar, cinnamon sticks, ginger, orange zest, and the remaining 2 tsp. salt in a saucepan. Bring to a boil over medium-high heat. Reduce heat to medium and maintain a low boil until the mixture has reduced and become syrupy. Coarsely chop 1 1/2 cups of the toasted pecans, add them and the remaining pecan halves to the honey mixture.
Stir the honey mixture into the squash and hold above 155°F for service OR Slightly undercook the squash and hold it separate from the syrup. Heat the squash in a sauté pan over medium heat until the squash is hot and tender. Then add glaze to coat.
Always practice safe food handling procedures
Wash hands with soap and water before handling any food and after handling raw meat, poultry, seafood or eggs.
Gently rub produce under cold running water. Scrub firm produce with a clean vegetable brush under running water.
Wash all surfaces that come in contact with raw meat, poultry, seafood and eggs to avoid cross contamination.