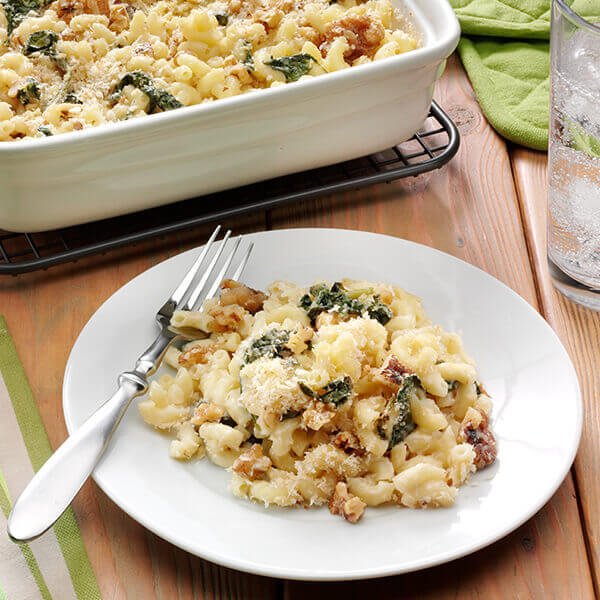 Walnut-Fontina Mac & Cheese
← All Recipes
Walnut-Fontina Mac & Cheese
Prep Time 15 Minutes
Cook Time 45 Minutes
Total Time 60 Minutes
Preparation
Preheat oven to 350°F. Spray 2-inch deep hotel pan with non-stick cooking spray and set aside. Spread panko onto sheet pan and bake for 5 minutes or until browned and set aside.
Bring 12 quarts water and salt to a rolling boil in a large pot. Cook the pasta until it is "al dente". Strain, rinse with cold water, and place in a large bowl. Whisk the mustard, Worcestershire, and hot sauce together in a small bowl. Stir into the cooled pasta. Stir in the Asiago, Fontina, 3 cups of Parmesan, and 1 1/2 cups of the walnuts; set aside.
Heat the half and half over the medium-high heat until hot. Stir in the spinach until it has wilted. Stir the spinach and half and half into the pasta mixture and transfer to the prepared hotel pan. Let stand 15 minutes.
Coarsely chop the remaining the 1 1/2 cups walnuts and combine with the toasted panko and remaining 1 cup Parmesan. Top the macaroni and cheese with the walnut breadcrumbs. Bake in the oven for 20-30 minutes or until the mac and cheese is piping hot and the top has browned. Serve immediately or hold over 155°F.
Always practice safe food handling procedures
Wash hands with soap and water before handling any food and after handling raw meat, poultry, seafood or eggs.
Gently rub produce under cold running water. Scrub firm produce with a clean vegetable brush under running water.
Wash all surfaces that come in contact with raw meat, poultry, seafood and eggs to avoid cross contamination.