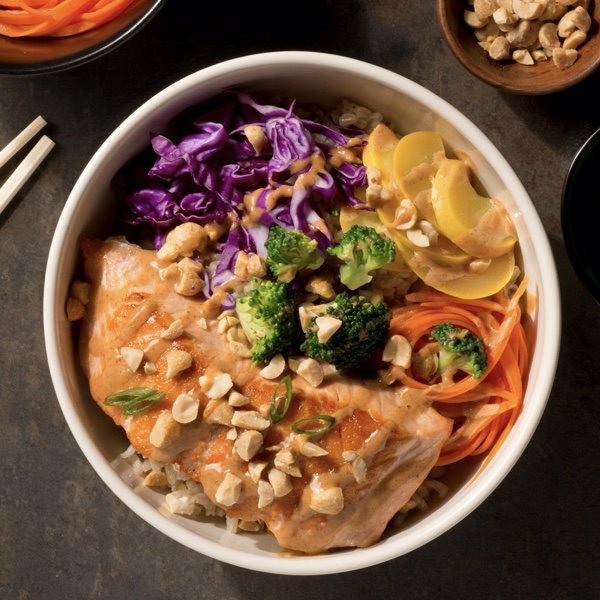 ← All Recipes
Korean Salmon Bibimbap
Prep Time 10 Minutes
Cook Time 10 Minutes
Total Time 20 Minutes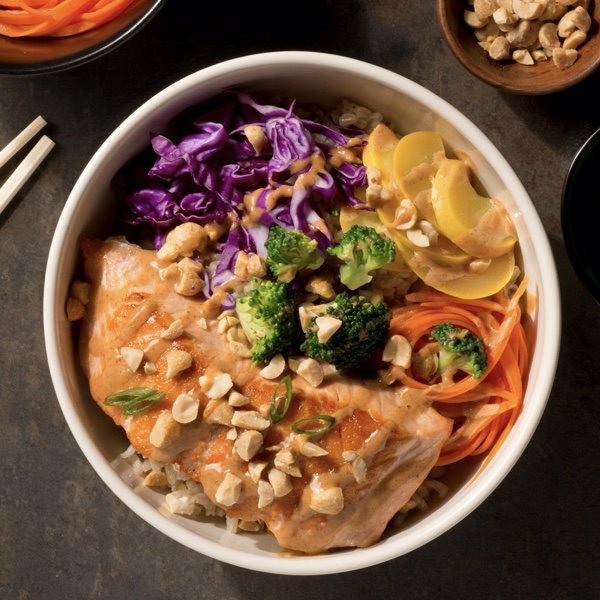 Serves 2
Serving Size 4 oz. fillet
Meal Type Entrees
Nutrition Information
Calories 1010
Fat 55g
Saturated Fat 11g
Polyunsaturated Fat 12g
Monounsaturated Fat 27g
Trans Fat 0g
Cholesterol 55mg
Sodium 1650mg
Total Carbohydrate 88g
Dietary Fiber 9g
Total Sugar 22g
Added Sugar 19g
Protein 45g
Vitamin D 0mcg
Calcium 90mg
Iron 5mg
Potassium 1220mg
Sauce
Preparation
Combine all the sauce ingredients in a saucepan and bring to a boil.
Always practice safe food handling procedures
Wash hands with soap and water before handling any food and after handling raw meat, poultry, seafood or eggs.
Gently rub produce under cold running water. Scrub firm produce with a clean vegetable brush under running water.
Wash all surfaces that come in contact with raw meat, poultry, seafood and eggs to avoid cross contamination.
Entrée
Preparation
Sear salmon in a hot pan with olive oil, turning once to crisp both sides. Flesh should be opaque and internal temperature should register 145°F. Remove salmon from pan and coat with peanut butter. Hold the salmon at 145°F or higher until service.
Sauté onion, peas, squash, and garlic in olive oil until tender.
Place hot rice in bowl. Arrange cooked salmon and vegetable atop rice. Drizzle with prepared sauce and garnish with peanuts.