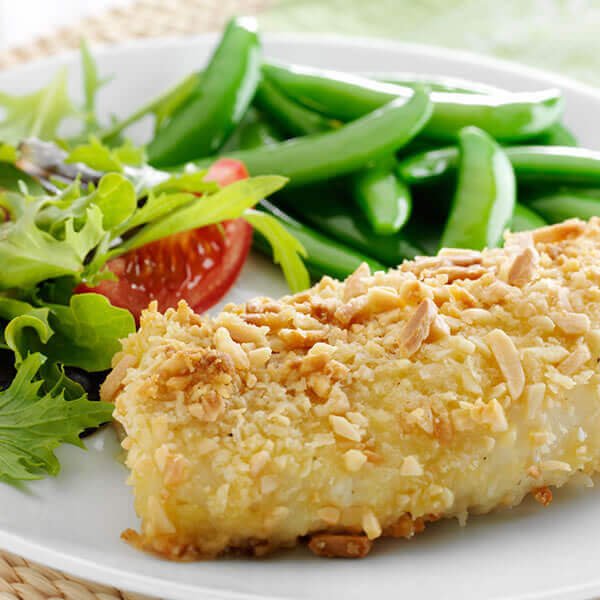 ← All Recipes
Almond-Crusted Cod
Prep Time 30 Minutes
Cook Time 30 Minutes
Total Time 60 Minutes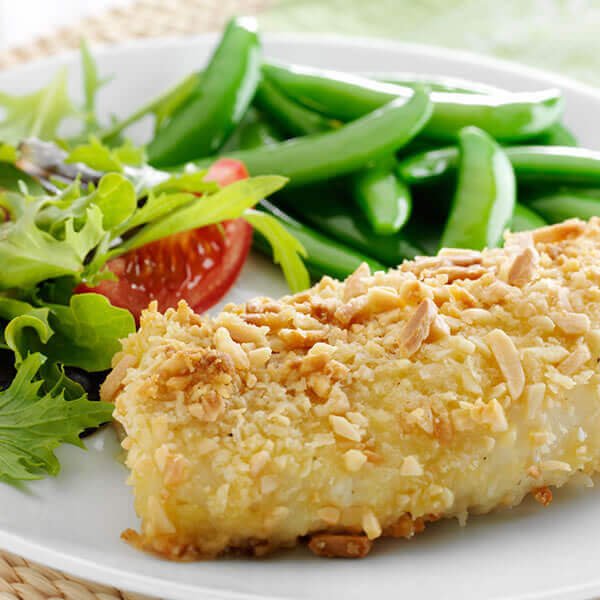 Serves 28
Serving Size 1 fillet (approx 7 oz)
Meal Type Entrees
Description
Toasted slivered almonds make a delicious crunchy coating for this menu staple.
Nutrition Information
Calories 460
Fat 24g
Saturated Fat 3g
Polyunsaturated Fat 10g
Monounsaturated Fat 9g
Trans Fat 0g
Cholesterol 110mg
Sodium 300mg
Total Carbohydrate 24g
Dietary Fiber 2g
Total Sugar 2g
Added Sugar 0g
Protein 33g
Vitamin D 2mcg
Calcium 80mg
Iron 2mg
Potassium 450mg
Preparation
In a shallow rimmed pan, combine chopped almonds, 2 cups flour, panko, salt and pepper. Set aside. In a medium bowl, whisk eggs and milk. Set aside. Place remaining flour in a separate shallow rimmed pan.
Heat oil to 350°F in a large skillet or rondeau over medium-high heat.
Dry each cod fillet and coat following standard breading procedure: dredge each fillet in flour; dip in egg mixture, shaking off excess; coat each fillet in almond-panko mixture, pressing gently to adhere coating. Discard any remaining flour, egg and almond-panko mixture after coating all fillets.
Place fillets in oil without crowding. Fry 2 to 4 minutes per side until golden brown. Repeat until all fillets are cooked. Transfer to sheet pan and finish in oven until internal temperature reaches 145°F (flesh should be opaque and separate easily with a fork). Season with salt and pepper.
Always practice safe food handling procedures
Wash hands with soap and water before handling any food and after handling raw meat, poultry, seafood or eggs.
Gently rub produce under cold running water. Scrub firm produce with a clean vegetable brush under running water.
Wash all surfaces that come in contact with raw meat, poultry, seafood and eggs to avoid cross contamination.