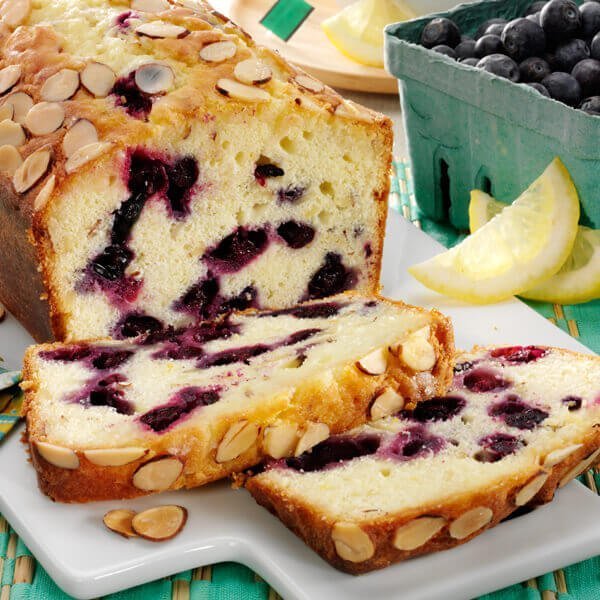 Glazed Lemon Blueberry Loaf with Almonds
← All Recipes
Glazed Lemon Blueberry Loaf with Almonds
Prep Time 10 Minutes
Cook Time 75 Minutes
Total Time 85 Minutes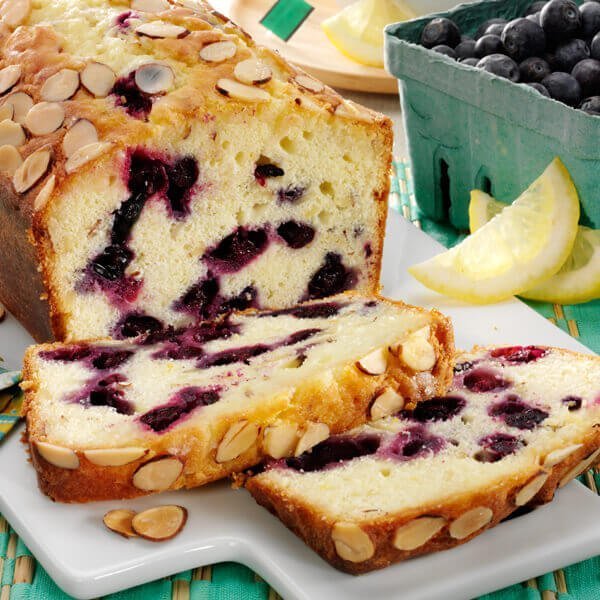 Serves 12
Serving Size 1 slice
Meal Type Breakfast
Course Main
Description
This zesty lemon blueberry loaf topped with sliced almonds is perfect for your breakfast or brunch menu. Also great as muffins for a treat on the go.
Preparation
Preheat oven to 325°F. Set aside 1⁄2 cup of sliced almonds. Finely chop remaining almonds. Combine flour, baking powder, salt, lemon peel and chopped almonds; set aside.
Cream butter with 4 cups sugar in an electric mixer until light and fluffy. Beat in eggs a few at a time, scraping down bowl between additions. Beat flour mixture into butter mixture alternately with milk, beginning and ending with flour. Fold in blueberries.
Divide batter evenly among 4 parchment-lined and greased 9 x 5-inch loaf pan (about 38 oz. per pan). Bake until golden brown and toothpick inserted into center comes out clean, about 1 hour 15 min.
Meanwhile, stir together 1 cup sugar and lemon juice; set aside.
Pierce top of hot loaf several times with a toothpick. Pour sugar mixture over loaf in pan (about 1/3 cup per loaf). Sprinkle each loaf with 2 Tbsp. of reserved sliced almonds. Cool in pan for 30 min. Remove from pan and cool completely. Slice and serve.
Always practice safe food handling procedures
Wash hands with soap and water before handling any food and after handling raw meat, poultry, seafood or eggs.
Gently rub produce under cold running water. Scrub firm produce with a clean vegetable brush under running water.
Wash all surfaces that come in contact with raw meat, poultry, seafood and eggs to avoid cross contamination.