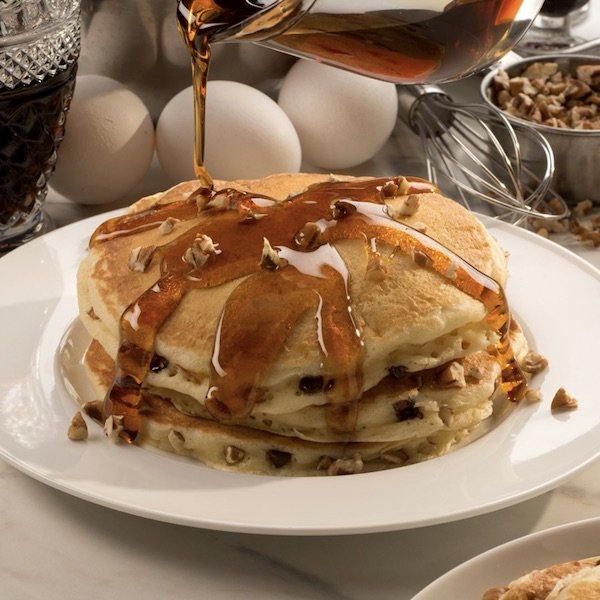 Banana Pecan Chocolate Chip Pancakes
← All Recipes
Banana Pecan Chocolate Chip Pancakes
Prep Time 15 Minutes
Cook Time 10 Minutes
Total Time 25 Minutes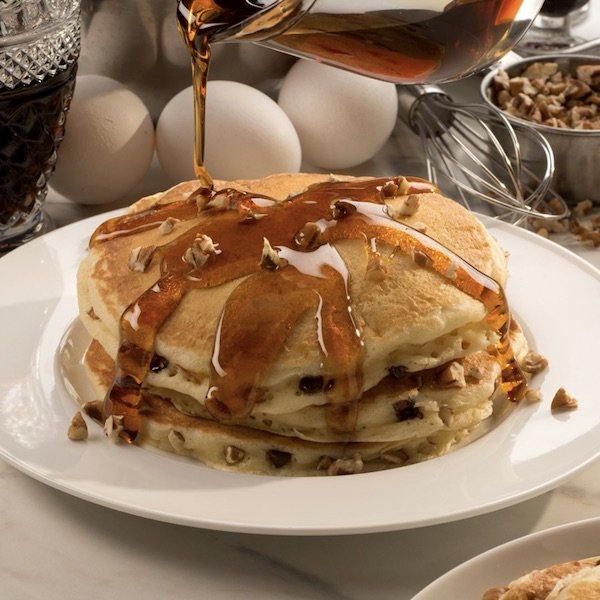 Serves 15
Serving Size 2 Pancakes
Meal Type Breakfast
Nutrition Information
Calories 310
Fat 11g
Saturated Fat 3g
Polyunsaturated Fat 2g
Monounsaturated Fat 5g
Trans Fat 0g
Cholesterol 0mg
Sodium 450mg
Total Carbohydrate 50g
Dietary Fiber 4g
Total Sugar 19g
Added Sugar 14g
Protein 5g
Vitamin D 0mcg
Calcium 150mg
Iron 2mg
Potassium 290mg
Preparation
In a bowl, mash the bananas. Stir into the prepared pancake batter.
In a separate bowl, toss together the pecans and chocolate chips. Set aside.
Heat griddle to 350°F. Using a 2 oz. scoop, scoop batter onto griddle. Add 1 tablespoon of pecan/chocolate mixture to each pancake. Cook 3 to 4 minutes, until batter begins to brown at the edges. Flip pancakes and cook additional 3 to 4 minutes or until done.
Serve immediately with warm maple syrup and chopped pecans.
Always practice safe food handling procedures
Wash hands with soap and water before handling any food and after handling raw meat, poultry, seafood or eggs.
Gently rub produce under cold running water. Scrub firm produce with a clean vegetable brush under running water.
Wash all surfaces that come in contact with raw meat, poultry, seafood and eggs to avoid cross contamination.