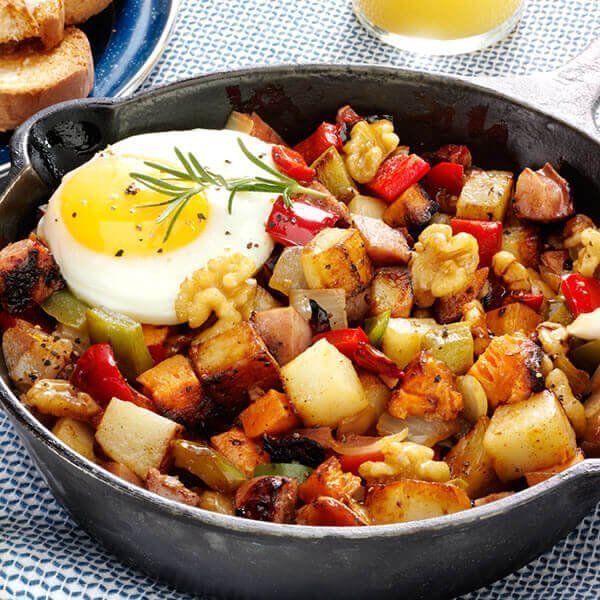 ← All Recipes
Two Potato Walnut Hash
Prep Time 15 Minutes
Cook Time 30 Minutes
Total Time 45 Minutes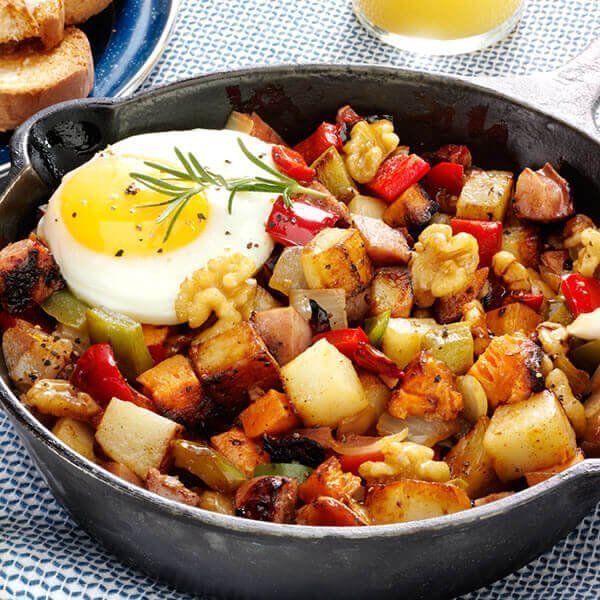 Serves 12
Serving Size 14 oz
Meal Type Breakfast
Description
A savory hash to refresh your breakfast menu - two varieties of potato plus chicken/apple sausage and walnuts for crunch!
Nutrition Information
Calories 640
Fat 30g
Saturated Fat 3.5g
Polyunsaturated Fat 13g
Monounsaturated Fat 5g
Trans Fat 0g
Cholesterol 120mg
Sodium 1620mg
Total Carbohydrate 55g
Dietary Fiber 8g
Total Sugar 10g
Added Sugar 0g
Protein 33g
Vitamin D 0mcg
Calcium 100mg
Iron 5mg
Potassium 1430mg
Preparation
Place russet potato cubes into a large saucepan filled with cold water. Bring to a boil and cook for 5 minutes or until potatoes can be pierced easily with a paring knife; drain and set aside.
Heat oil in a large skillet over medium-high heat. Add the onions, bell peppers and sweet potatoes; sauté until sweet potatoes are tender and onions have begun to brown, about 15 minutes.
Add sausage, walnuts, russet potatoes, rosemary, salt, and pepper. Cook, stirring occasionally for 10 minutes or until potatoes have browned. Hold at 155°F for service.
Always practice safe food handling procedures
Wash hands with soap and water before handling any food and after handling raw meat, poultry, seafood or eggs.
Gently rub produce under cold running water. Scrub firm produce with a clean vegetable brush under running water.
Wash all surfaces that come in contact with raw meat, poultry, seafood and eggs to avoid cross contamination.