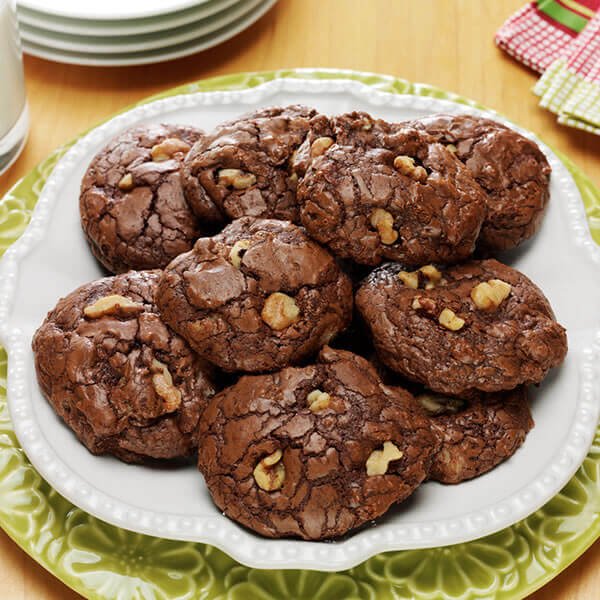 Triple Chocolate Walnut Cookies
← All Recipes
Triple Chocolate Walnut Cookies
Prep Time 25 Minutes
Cook Time 15 Minutes
Total Time 40 Minutes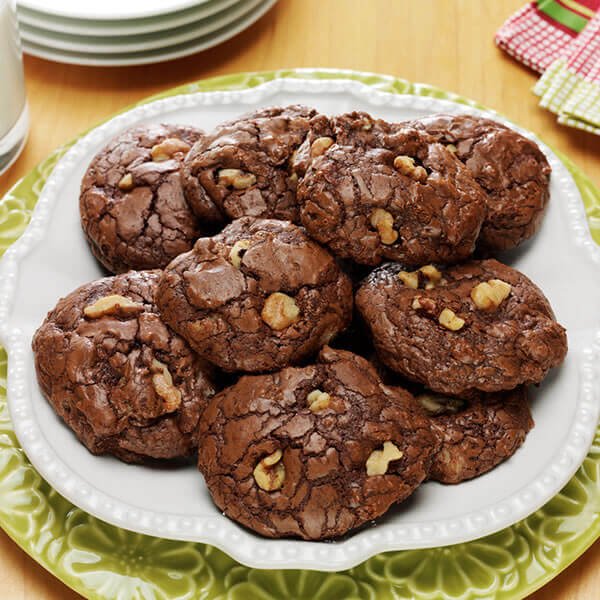 Serves 36
Serving Size 2 Cookies
Meal Type Snack
Description
Walnuts provide a delicate crunch to these indulgent triple chocolate cookies.
Nutrition Information
Calories 340
Fat 20g
Saturated Fat 10g
Polyunsaturated Fat 3g
Monounsaturated Fat 6g
Trans Fat 0g
Cholesterol 65mg
Sodium 55mg
Total Carbohydrate 37g
Dietary Fiber 3g
Total Sugar 28g
Added Sugar 24g
Protein 5g
Vitamin D 0mcg
Calcium 40mg
Iron 3mg
Potassium 180mg
Preparation
Line sheet pans with parchment paper and set aside.
In a small bowl, stir together flour, baking powder and salt. Set aside.
Melt together unsweetened chocolate, 12 oz. semisweet chocolate and butter. Set aside.
In a mixer, whip sugar and eggs on medium-high speed until thick and light. Reduce speed and add melted chocolate and vanilla until well blended.
Fold flour mixture into chocolate mixture. Gently stir in remaining semisweet chocolate, milk chocolate and walnuts.
Using a 2 oz. scoop, place dough on prepared sheet pans at least 3 inches apart. Bake at 350°F until cookies have cracked, about 15 minutes. Allow to cool completely on pan.
Always practice safe food handling procedures
Wash hands with soap and water before handling any food and after handling raw meat, poultry, seafood or eggs.
Gently rub produce under cold running water. Scrub firm produce with a clean vegetable brush under running water.
Wash all surfaces that come in contact with raw meat, poultry, seafood and eggs to avoid cross contamination.